The University of Hull is today announcing an ambitious eight-year plan to become carbon neutral by 2027, pledging a commitment towards a strong, sustainable future for us all.
The announcement will be made at the Waterline Summit, the region's flagship event that demonstrates how the Humber can provide solutions to global challenges associated with climate change and cement our regional ambition towards a low carbon future.
The University will announce a range of measures, including a transition to renewable sources of energy to power the campus and reducing energy usage through optimising our estate and campus infrastructure.
The University has already reduced its carbon emissions by 31%.*
The majority of carbon emissions from the University are from the production and consumption of energy.
With some electricity already generated onsite through solar panels and Combined Heat and Power plants, it is expected a high percentage of carbon reduction at the University will come from introducing a range of renewable energy sources to fuel our campus.
The University is now exploring a range of technologies to create a highly efficient infrastructure, including storing energy from renewable sources on campus to use when energy demand increases, using boilers which generate heat and power from biogas grown from plants and using heat and hot water pumps which power down when there is less activity on campus.
Elsewhere we are tackling the overuse of heating, lighting and air conditioning, through smart controls, which not only enables us reduce our carbon emissions, but also reduces our fuel bills.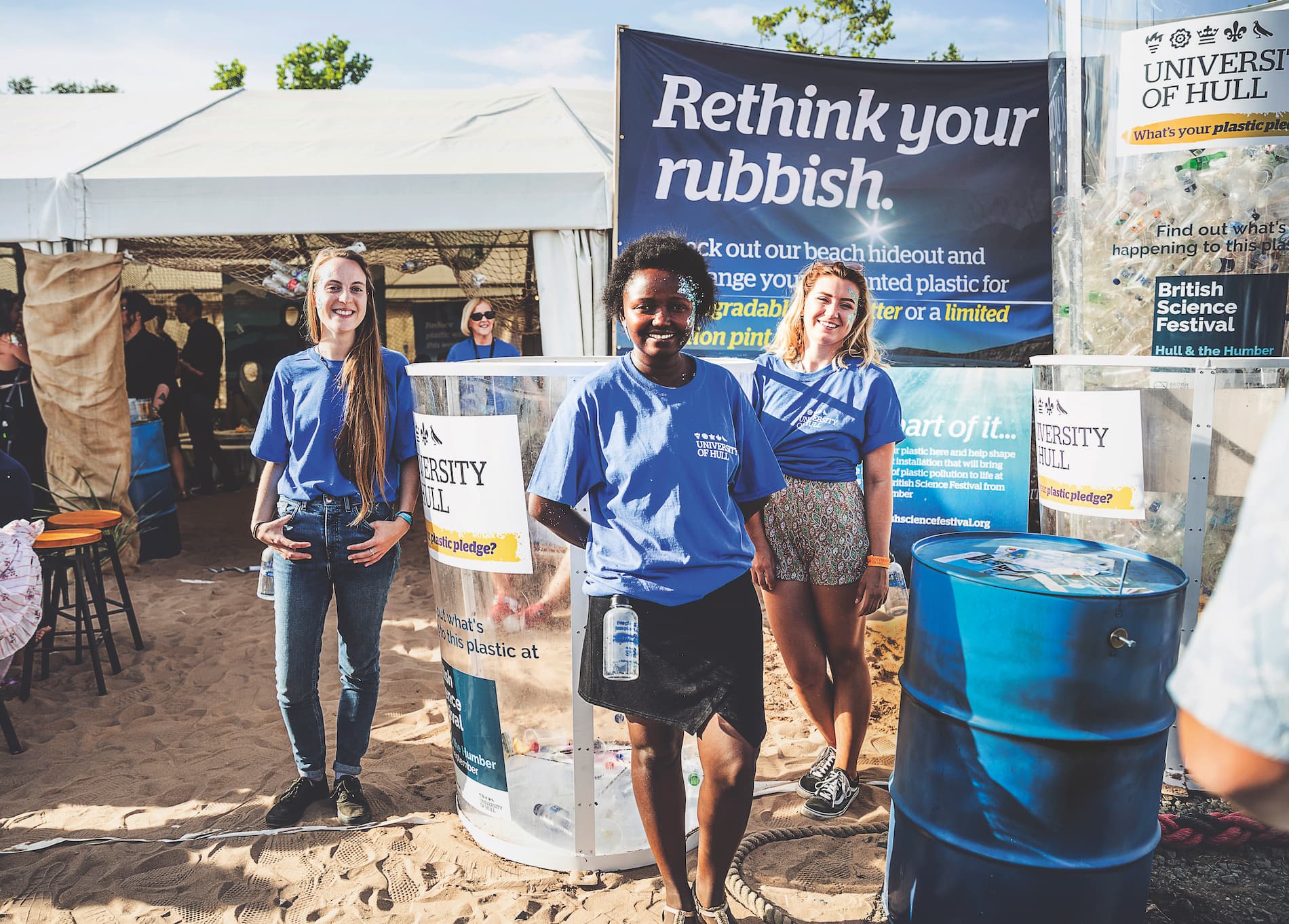 The University has already ensured that no waste from the campus is taken to landfill. All dry mixed recycling is taken to a recycling centre for sorting and processing, and all our general waste goes to an Energy Recovery Centre where it is converted into energy. Once Energy Works opens in Hull, it will go there to produce energy to power homes in the city.
Today's commitment ensures this start continues at pace to will enable us to deliver on our promise.
Professor Susan Lea, Vice-Chancellor at the University of Hull, said: "Colleagues, students and stakeholders are all passionate about playing their part in the transition towards a low carbon future. The University also plays an important role in helping to tackle this global challenge through our world-leading research, and our education prepares students to go on to address these critical and complex problems.
"This ambitious commitment sets our centenary as a target date to become carbon neutral and reaffirms our commitment to contribute towards the urgent action needed to reverse global heating and the climate crisis.
"We will work at pace to adapt and take control of our future, protecting it for generations to come."
In addition to measures outlined above, the University will continue to reduce energy consumption in a range of other ways, including further reducing our use of plastics across campus. The introduction of #MyPlasticPledge was a first step towards educating colleagues, students and partners to make a small everyday change that collectively will have a huge impact.
The University has also made significant progress in reducing single-use plastics across its cafes on campus.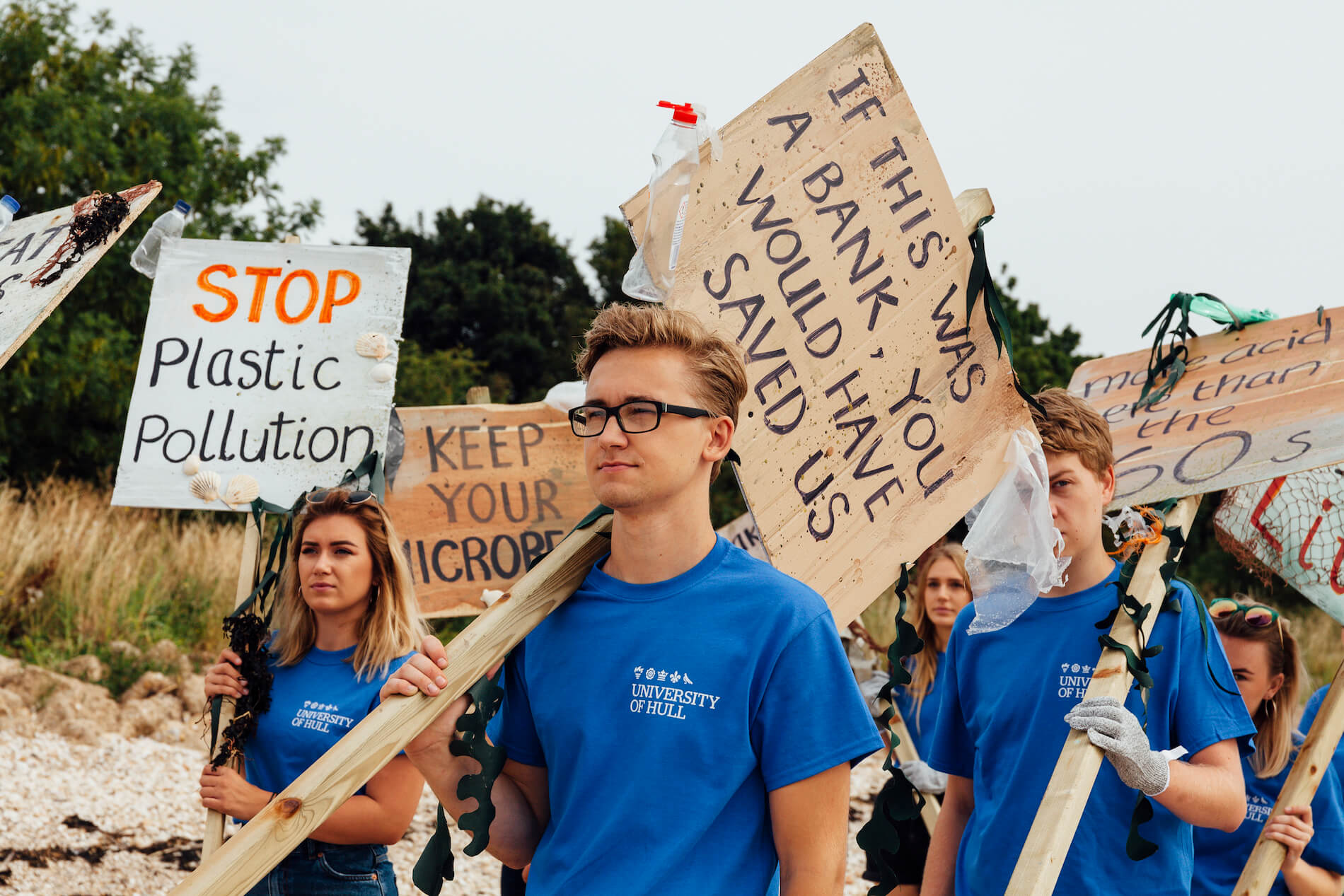 It will also continue to enhance the levels of biodiversity on campus and embed sustainable procurement practices.
It is also working to promote sustainable travel across the University.  As part of this, the University has introduced a new travel provider which is able to improve our carbon reporting to help us monitor and reduce our carbon footprint. We have introduced electric vans within the University's support services fleet, which replace older petrol and diesel equivalents and we have two charging points being trialled as free to use for all electric vehicles, with a view to the implementation of 12 Electric Vehicle Charging Points.
At the summit, Professor Dan Parsons, Director of the University's Energy and Environment Institute will take part in the Waterline Debate, where he will deliver a speech on the ways in which the Humber region can become the most resilient to climate change and how Humber-based changes and innovations can become the low-carbon transition model exported around the world.
He said: "As a low-lying region, the Humber estuary is one of the coastal regions at the apex of the consequences of climate change and sea-level rise. Increased flood hazard and risk will have devastating consequences on our families, our homes and our businesses if we don't act now.
"Here at the University of Hull we're rising to the challenge, seeking the solutions in both environmental and societal resilience to climate change alongside the innovations needed to drive a rapid transition to low carbon economy. We are getting on with helping to solve some of these complex problems. We want to make a difference to people right here on our doorstep and all over the world.
"As well as being the thought leaders driving these innovations we also want to be the actions leaders, taking action as a University to make the changes needed to secure that fairer, brighter, carbon neutral future."
Isobel Hall, President of Hull University Students' Union, said: "Here at Hull University Students' Union, we are really pleased to see the University taking such strides to tackle this climate crisis by making a firm commitment to becoming carbon neutral.
"After the Students' Union declared and formally recognised that we are living in a climate emergency earlier this month, it is great to see that the University who are educators of the future taking urgent and active steps towards making the University campus and operations more sustainable."
"This ambitious commitment sets our centenary as a target date to become carbon neutral and reaffirms our commitment to contribute towards the urgent action needed to reverse global heating and the climate crisis." Professor Susan Lea, Vice-Chancellor at the University of Hull
---
Original source: University of Hull
Media Enquiries
Please contact the Press Office on:
---